Panasonic GX85 Budget-Priced, 4K Video, Interchangeable-Lens Compact Camera
   Today – 5th April 2016, Panasonic announced the Panasonic GX85, a full-featured mirrorless interchangeable-lens compact digital camera with an attractive price for hobbyists and first-time interchangeable-lens camera buyers. Featuring a 16MP CMOS sensor, this Micro Four Thirds format model features a new five-axis in-body stabilizer for better image quality when shooting handheld in low light without a flash.
Panasonic DMC-GX85 Key Features:
16MP MFT sensor,

New 5-axis sensor stabilizer,

4K video,

Post-focus technology,

3-inch, 1040k resolution Flip-out touchscreen,,

2.764 million dot resolution eye-level LCD viewfinder

1728-zone multi-pattern metering system,

ISO range 100-25,600,

Wi-Fi and NFC,

Shutter speed range 60-1/16,000 sec,

Time-lapse, Stop-animation,

Built-in flash and hot shoe for external flash.
   The Panasonic GX85 measures 4.8×2.7×1.73 inches and weighs only 0.84 pounds body only—a light, compact camera that should be very well-suited for travel photography.
   Panasonic's GX series of cameras reached its apex with the 20mp Panasonic GX8, which continues to be available. While the price has dropped on that camera, the GX85 offers a lower-cost alternative with most of the GX8's key features.  The GX85's $799.99 price (kit lens included) is near $200 less than the GX8 body. What did Panasonic sacrifice? The 16MP sensor is slightly lower-resolution, and the GX85's eye-level viewfinder is fixed position while the GX8's rotates upward. 
   However, the 16MP sensor allows a 10% boost in fine detail resolving power compared to other 16MP MFT sensors, thanks to the elimination of a low-pass filter. The camera offers full automation as well as manual controls via thumbwheels and a tilting touchscreen LCD monitor. The GX85 is part of a growing ecosystem of 27 interchangeable lenses as well as shoe-mount flash options.
   The Panasonic GX85 is the first to offer five-axis in-body image stabilization and has a 4K Photo mode which captures 4K (approximately 8MP) still images at a frame rate of up to 30 frames per second for two seconds. For stills, it captures 16MP images in RAW or JPEG, and can transfer images and be operated wirelessly via Wi-Fi and NFC with the appropriate smartphone app.
   The contrast AF system includes face and eye detection, and 49-area AF with touch control. An intriguing "post focus" mode is a relatively new feature that debuted on the GX8. The camera captures a series of 30 bracket-focused images in 4K mode over one second. The camera changes focus from farthest to closest distance to create a series of 8MP images. After the image is captured, you open a menu item and change the focus as needed. You could also blend multiple frames to extend the depth of field. That's quite nifty! The camera will save that shot as a JPEG.
    For snapshooters who want to find a more expressive way to display their photos, the camera has numerous Creative controls, including Retro, Sepia, several Monochrome options, Toy Pop, Miniature Effect, Soft Focus, and more for a total of 21 modes. 
   The GX85 offers full 4K video resolution as well as 1080, 720 and 480p options. It has a built-in stereo microphone.
   The Panasonic GX85 will be available from AMAZON in a kit with the standard 12-32mm OIS (35mm equivalent: 24-64mm) lens in Silver or Black.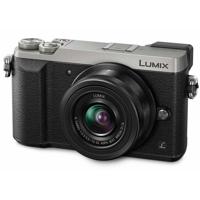 AMAZON Silver Version – Price :  $697.99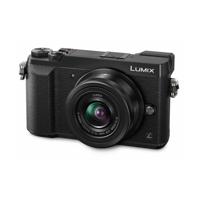 AMAZON Black Version – Price :  $771.99
---
Additional Links:
Panasonic Lumix DMC-GM5 Mirrorless Digital Camera with 12-32mm Kit Lens (Red or Black)
+
Panasonic Lumix G Vario 35-100mm f/4.0-5.6 ASPH. / MEGA O.I.S. Micro Four Thirds Lens
$647.94 (Regular $747)